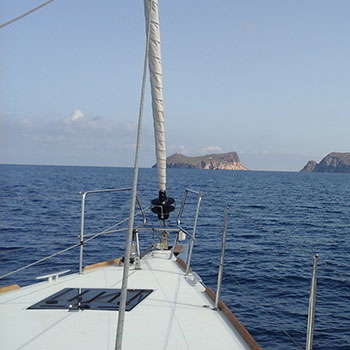 Based on the sun-drenched island of Cyprus right in the heart of the Eastern Mediterranean, where yachting and sailing as a sport, as well as the relevant infrastructure, are entering a long overdue booming phase, we believe that every person should have the access and the means to enjoy the sea.
Sailing and Seamanship training is at the core of our business: In affiliation with the American Sailing Association we offer the most structured and efficient way to bareboat skipper qualification (by means of the ASA 101, 103, 104 bundle) which entitles you to skipper and charter sailing yachts worldwide, but we do not stop there!
We fully understand the needs of the newly qualified skipper and pride ourselves in being the first sailing school in Europe to take your American Sailing Association qualifications and experience to the next level, by way of formal Advanced Cruising as well as Docking and Navigation bundle training to the ASA 105, 106 and 118 standards.
In addition we promote confidence and safety by offering various other satellite in-house short courses to do with engine troubleshooting, radio and marine communications, power boating, first aid etc.
Apart from being great fun and safer than many everyday activities, sailing and yachting in general is also easier, more accessible and cheaper than it seems to the eyes of the unaware! Check out participation in our various week-long sailing holiday flotillas at prices that compare favourably to land based options, yacht chartering in Cyprus, Greece and beyond, day/weekend sailing options around Cyprus and various annual offshore trips to neighbouring countries to name but a few!
And when the time comes to consider ownership, Horizon Yachting will assist you every step of the way, by running the most comprehensive yacht management and boat-share syndicate schemes, as well as making the purchase process a stress free and pleasant experience by taking over market research and due diligence, professional surveys and sea-trials, relevant registration and formalities, delivery of the yacht to its base and upgrade and maintenance projects of any scale.
Our people are all highly motivated individuals, supremely trained and qualified as skippers and instructors, with thousands of sea miles experience who are all yacht owners either solely or in syndicate, perfectly suited to understand and serve the needs and ambitions of students, skippers and owners alike.
Get in touch to experience yachting and the sea like never before!